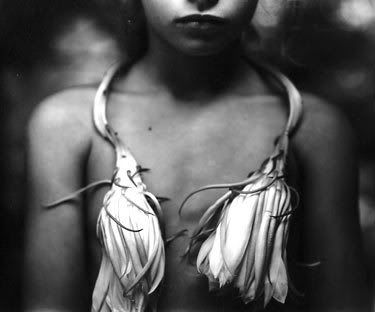 And thank you Alison, for taking me to
Sally
's
lecture.
I've always loved her work, from the time I first saw it and it caused such a ruckus. I had kids younger than hers, and I too was living in the woods letting the kids run naked...not much thought to it...it was hot and no one was around...and if there was, they were friends, what's the big deal? Plus I loved her kids, their direct stares...the deep pools of their eyes. I was comforted to know someone else was making art just where they lived...Her
art
was right in front of her.... her life.
She's not a disappointment in person either. Small and spunky, yet large in feeling and mind. Words are not my strong suit, I wish I could describe her presence better. She was refreshingly normal, direct and honest...no pretense.
And she keeps at it, no matter what life throws in the way. A good spirit.
You'll be happy to know her
kids turned out fine
.
I leave you with my favorite Sally Mann image....if I have to choose....
Night Blooming Cereus