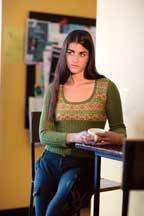 At long last you can see what I was working on so long ago. Remember the
wormy
ends? I am pretty pleased with how it looks in the
Interweave Knits 2007 Fall Preview
(scroll waaaay down to Mirepoix Bodice). The model is maybe a bit large for it. The sweater was designed for and fits my daughter to perfection. She is a little pin of a thing. When
Gina
first told me the pictures were up...I about died... an image where the sweater was clearly too small was featured
...
...the dreaded boob-bisection...horrors!
Fortunately
that picture was quickly replaced for the one above where the stylist yanked it into place.... Anyway the close up is lovely.
PS: Friends have told me Sophie has an "athletic college girl figure", that describing her as a "pin" gave the wrong,
skin and bones
impression, that "fit and healthy" and "Sports Illustrated Model"(she'll love that!) were better descriptions .
If you're thinking of making this one, try it on as you go, don't start the armholes before the lower half or two-thirds of your breasts are covered. For a custom fit, adding one peerie pattern may be enough, or you may need a peerie and a border. Another note, you really have to nail the steeking with a sewing machine since the yarn is a superwash and does not stick together at all, if you are afraid, you can go back and forth on the bodice.